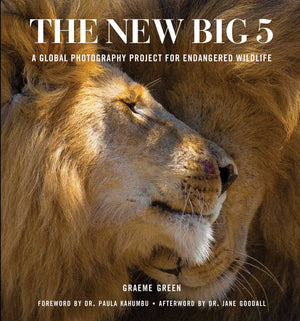 The New Big 5 by Graeme Green | A Global Photography Project for Endangered Widlife
The world's wildlife is in crisis, and the next ten years are critical.
The New Big 5
 brings together more than 145 of the world's greatest wildlife photographers, conservationists, and advocates in a mission to not only celebrate the natural beauty of the animal world, but to raise awareness of the crucial issues facing these magnificent creatures.

Until recently, the Big Five referred to the five big-game animals that were most difficult for colonial hunters to shoot and kill. Wildlife photographer Graeme Green's The New Big 5 Project set about to reclaim that gruesome, antiquated term by asking people around the world to vote on the five endangered animals they would most want to shoot—with a camera. More than fifty thousand people voted, and the New Big 5 list of Wildlife Photography was born.

What are the New Big 5?


Elephants

Gorillas

Tigers

Lions

Polar Bears

With 226 stunning photos and informative essays (Introduction of the Gorilla chapter written by Dr. Tara Stoiniski, President and CEO/Chief Scientific Officer of Fossey Fund) from the world's greatest wildlife advocates, this one-of-a-kind book inspires and raises awareness about the New Big 5, and our wildlife world.