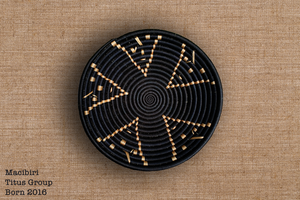 12'' Handmade Bowl Featuring Historic Gorilla Macibiri's Nose Print
Just like human fingerprints, mountain gorilla noses are distinct. While all individuals in every gorilla subspecies may have unique nose prints, they are the most distinct in mountain gorillas. In fact, mountain gorilla nose prints are one of the best ways for humans to learn and identify individuals in the field. Even Dian Fossey used this identification method and drew nose prints for the gorillas she watched.
Each bowl is handcrafted in Rwanda by local artisans through our partnership with Azizi Life. Originally only offered at our new campus in Rwanda, you can now purchase these bowls online for a limited time!
Our hand woven bowls are crafted from natural sisal fibers threaded over a core of locally-gathered forest grasses.

Each bowl features the nose print of one our 

historic gorillas

.

Available Gorilla Nose Prints: Digit, Poppy, Pasika, Macibiri, Titus, Maggie
Dimensions:  

 

12''

Care: Wipe with a dry cloth.
Get yours today!
Macibiri
"Macibiri"  has a very special and historic meaning, because Dian Fossey's nickname in the Kinyarwanda language was "Nyiramacibiri." Macibiri is a historic gorilla, not only for her name but because she is a granddaughter of legendary silverback leader Titus, who was studied by Dian Fossey herself after he was born in 1974. 
Macibiri turned 6 this August and she is still as playful and curious as she was when she was a youngster!
Want to know which gorilla you are? Check out our gorilla personality quiz to find out!