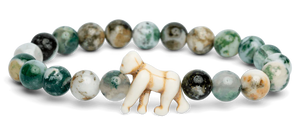 The Traverse Bracelet
In partnership with Fahlo, each bracelet comes with a real gorilla to track. One small bracelet. One big mission!
Learn your gorilla's name and get their picture
Gain knowledge of their amazing stories
Follow as they traverse on an exclusive tracking map
The gorillas are tracked to ensure their ongoing protection and  to better understand their behavior, ecology, genetic diversity, and habitat requirements—all of which is essential to developing effective conservation strategies.The gorillas are not physically tagged, so tracking consists of teams of trackers following the trail of the gorilla groups they monitor until they find them each day and then they use GPS devices to gather and record information. The tracking that is provided via the bracelet is time delayed, meaning that it is not live, but is from a previous period of time, which ensures the gorillas continued safety.